From our timeless classics to our special cuvées, each of our Cognacs has a distinctive personality. This Cognac was imagined by our Cellar Master with an innovative, unique style. The standard for a new generation, this Cognac reflects the values of people who like outdoing themselves.
Audacious, dynamic and creative: this generation is hacking the Jules Gautret codes of tradition and pushing it to plunge into the depths of the digital world in pursuit of new frontiers.
PRODIGE
By definition, the French word Prodige (which translates as 'prodigious' or 'amazing') defines an extraordinary act, far from being ostentatious, it nevertheless boasts successfulness with a certain degree of sassiness. The name Prodige leaves a range of possibilities open…
It reaches out to the future, or at least to those who will shape the world of tomorrow.

Tasting notes
Color : Shiny, golden color
Aroma : Floral and fruity notes with a slight sweetness
Taste : Round and fruity on the palate thanks to citrus and pear aromas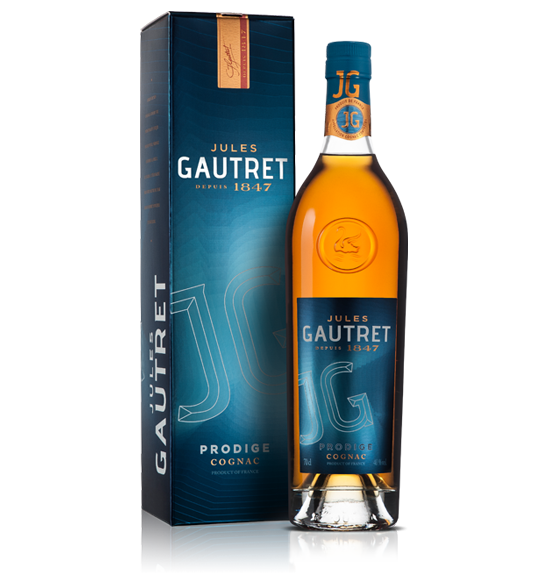 Audacieux
By Jules Gautret
In this cocktail, aptly named Audacieux, you'll find the aromas of our cognac Prodige, which reflects the early days of the company, when our founder Jules Gautret was audacious enough to make his own way and write his own story. Combined with verjuice and wild peach, this cocktail is peachy, youthful and refreshing.